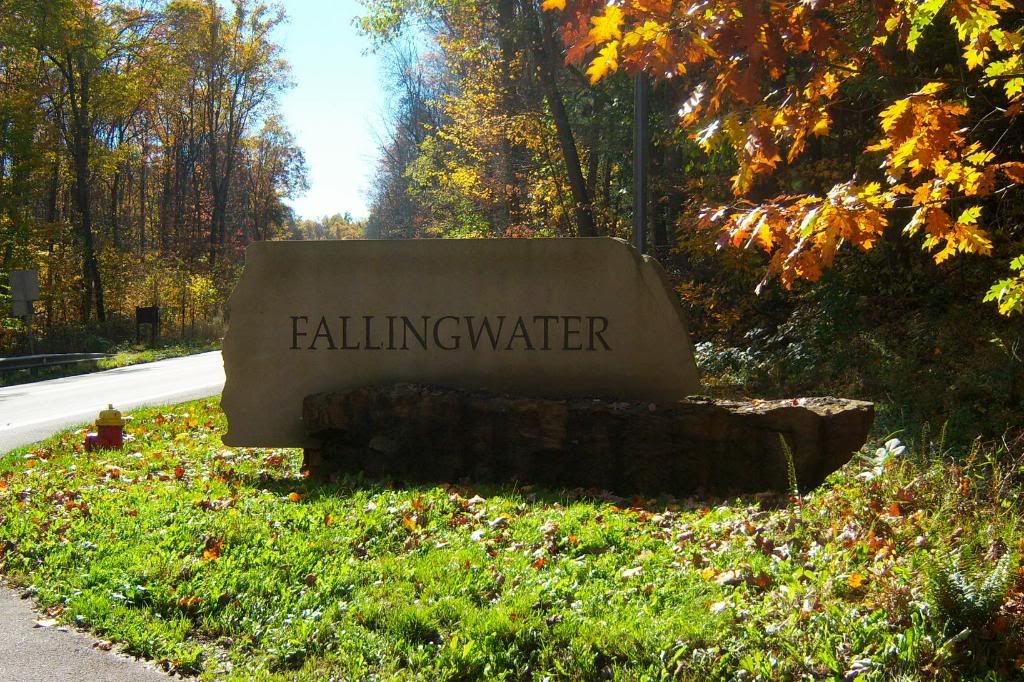 Nick and I headed to the mountains this weekend to stay at Seven Springs for their Octoberfest. We go every year. This year, on Monday morning, we really didn't have anywhere to be and it was such a beautiful day, I suggested that we go to tour Falling Water.


I remember passing the signs for it Memorial Day weekend when I went camping with the derby and refs at Scarlet Knob. I really didn't realize it was so close to us. Nick's mother had always talked about it and whenever anyone from out of state came to visit, it was always on her list of places to go. She always wanted to take me there.
When we arrived, we found out that you couldn't take a tour of the house on Mondays. You could only purchase
a grounds pass. That was totally cool
Once we parked the car, we headed on one of the paths that took us past Bear Run, which is the stream that runs under the house.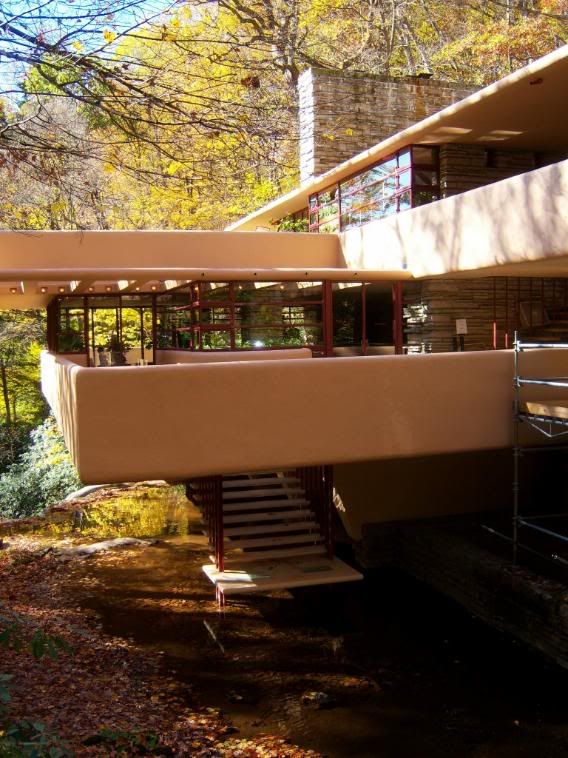 Before we knew it, we were at the house. The water level is low, usually there is a full pool of water under the house. They had a really neat are where it looked like they could walk down steps from the house and into the water. To the side was a space that looked like it collected water and became a small wading pool.
After we walked all around the outside of the house, we headed up the road to an area above the house. They called this the garage. I can see where it would house three cars, but this was the best garage I'd ever seen. The top of the garage seemed to be a pool house. Here is the pool. Even green, it's beautiful. There was a wonderful walkway from the garage down to the house. Everywhere you looked was a little deck or a cozy nook.
I really enjoyed this tour, I just wish that I could have taken it with Nancy. Also, the whole time I was there I kept thinking about how Skankalina Jolie brought Brad Pitt there for a private tour for his birthday. EWWW!