Mr. Bruises and I went on an ATV tour in Punta Cana. I was the only girl who had her own machine, the rest rode on the back of one. The guide was really surprised when he finally realized that I knew how to ride AND shift gears.


This was our second attempt at an ATV tour on vacation. The first one, two years ago, was disastrous. Our guide told the ladies to use the rest room since there wasn't going to be any facilities until we returned. When we all (we were with three other couples) returned, the boys had their ATV's picked out and had one for their partners. That is everyone EXCEPT Mr. Bruises. He picked himself one up front that was all clean and forgot about me. I ended up 20 people behind with a group of college boys. I was pissed.


So, they start lining us up and I see Mr. Bruises conversing with the guide. They are pointing back at me and I am ignoring them. The lady comes back and says that I can pull out ahead of others and get in line behind Mr. Bruises so that we can have our photo taken. I tell her that I am not with him and act like I've never seen him before. At this point the college boys are laughing and enjoying Mr. Bruises misery. I stay where I am and take my tour with strangers and Mr. Bruises feels my wrath for the rest of the day.
Mr. Bruises learned a valuable lesson that trip. He didn't let me out of his site on this one. It was an incredible tour. We rode on some side roads to get to the trails that went into the jungle. We rode in a quarry. The highlight was riding on the beach in the sand dunes.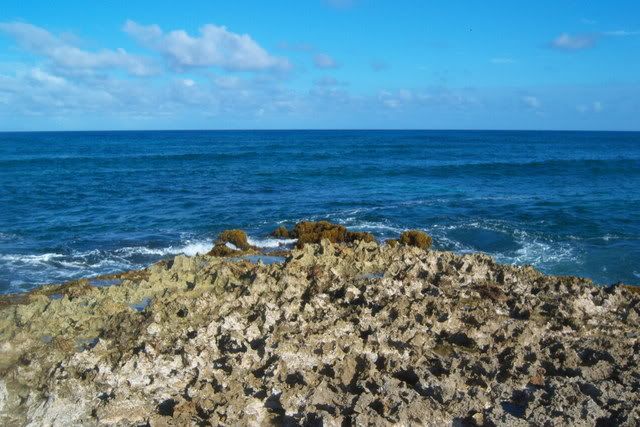 The photos were taken at a spot where the Caribbean Sea and the Atlantic Ocean met. It was so beautiful, but we were so dirty. I swear, I am still cleaning dust out of my ears!