We packed the car and headed to Goldstock on the Friday of Labor Day Weekend. I used my mother-in-law's station wagon. It was perfect for the boys, they had the whole back.

About three and a half ours into our nearly six hour drive, I noticed this in my rear view mirror. I had to take a photo, which I promptly texted to a few friends. Kylie asked "Where's the rowdy one?", I informed her that he was sleeping.

We arrived at camp. Everyone says that Disney World is the happiest place on Earth. I think Goldstock is. This was our cabin, we occupied the right side. Our bed was right by the window and the boys loved laying in bed, barking at everyone as they walked by.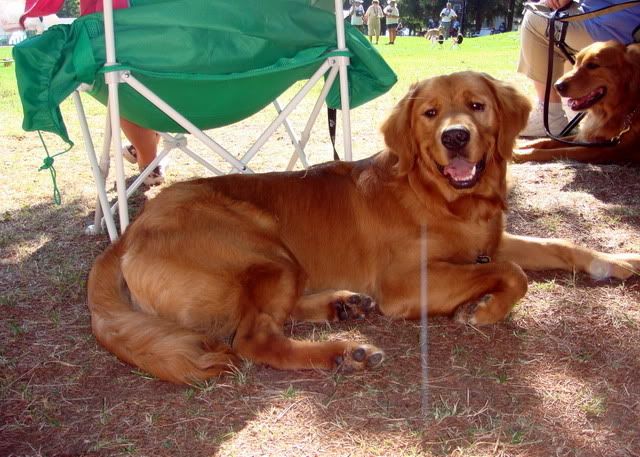 Travis was entered in the Olympics. His first event was the Obstacle Course. He did very well, he wouldn't take three steps backward for me, but he did all the jumps, ran through the tunnel, which was constructed from a golf cart, and he did sit in a hula hoop for three seconds.

Next event, Sassy Walk. Travis HAS NO sassy walk, so we decided to help him, Auntie MJ gave all the dogs pink and purple fluffy things to wear around their neck. We borrowed Riley's and put it on Travis' nether regions. Style Points (dollars) were collected and inserted into the fluffies. He looked like a little stripper, all he needed was a pole.

Next was Righteous Retriever. This amounted to me holding Travis at one end and Pam holding his favorite ball at the other end. When they said go, I had to release Travis and he had to retrieve his item and bring it back to me. If he retrieved any other dogs item he would be DQ'd. Well he ran to Pam, got the ball, and turned around and ran back to me. A foot from me, he took off running with a group of puppies. It was mass chaos. It was a good 45 seconds before someone finally crossed the finish line. Travis came in third, earning him a bronze medal.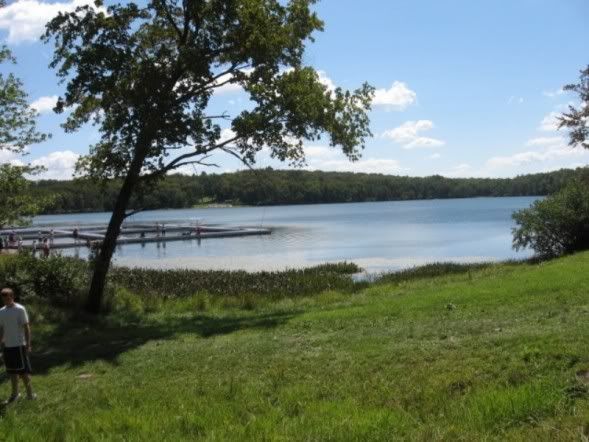 Finally, the swimming competition. I had taken Travis to the lake the day before and he swam for the first time. He was a natural. I even got him to jump off the dock a few times. Dock diving for puppies was not allowed this year. When it was time for Travis to swim for the Olympics, he took two steps in and just watched the other dogs.

He did have a blast swimming with his new BFF Bailey. Those two could have swam all day.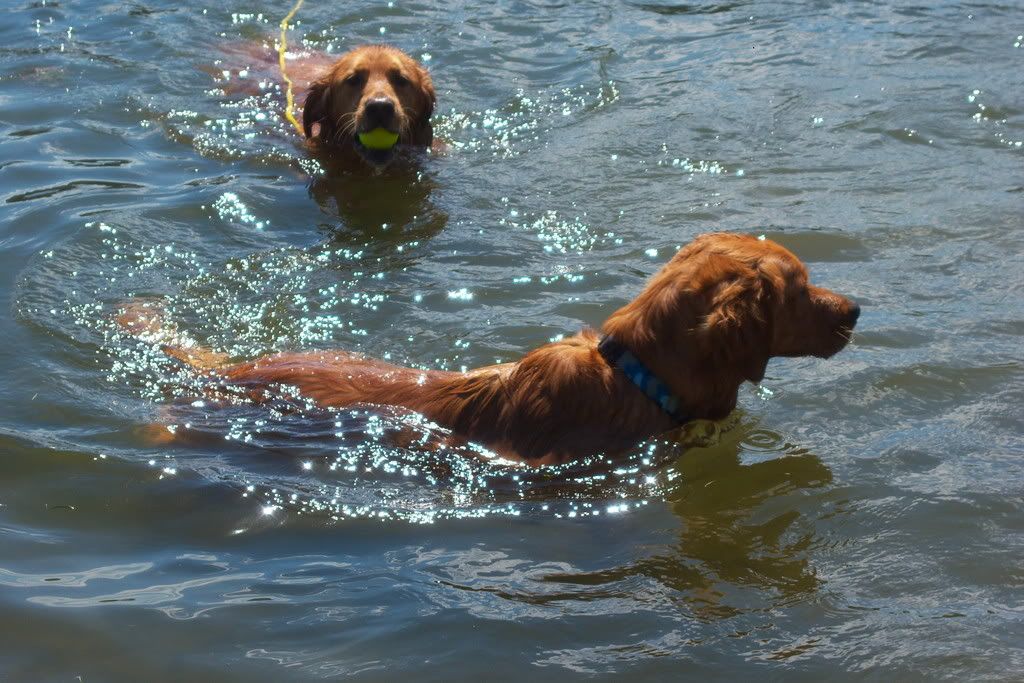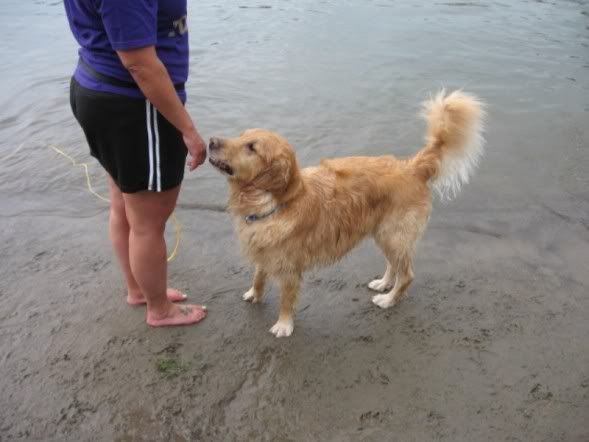 Riley, on the other hand, still is a cautious swimmer. He would only go in to his belly. You could actually see him be all like "Oh my, my belly is touching, yucky!" I would throw the ball out real far for Travis and while he was out in the water, I would throw the ball a short way in for Riley so he could retrieve it without Travis stealing it.

This is the only picture I was able to get of both of my boys in the water together!

Travis was so much fun to watch. He would get out so far, until he could barely touch, then he would take this big leap, kind of like a dolphin and then swim like crazy.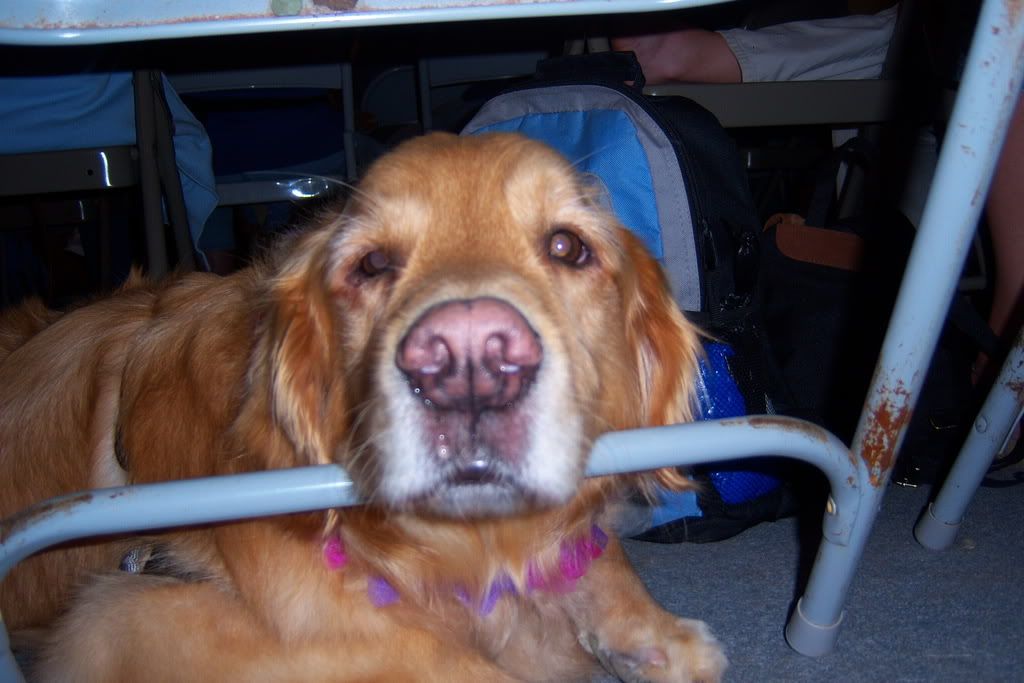 After campaigning all day for Sweetest Boy, Travis was taking a nap. Riley attended the Live Auction with me. I thought he was sound asleep under my chair, but when I put the camera down to take a photo, I found that he was checking out all the people behind us.

On the last morning, those of us still at camp had breakfast together and posed for a photo. One thing I like to do is encourage people to take a "goofy" shot. They are always so much fun. Here is ours!


On the way home, I saw this in the rear view mirror.

Once we were home and said our greetings to Daddy and Kallie, there were two golden throw rugs on the floor. They were two pooped pups!! I know they are dreaming of Goldstock 2009, I know I am!