I've looked forward to the Fourth of July holiday for years. This is mainly due to the fact that my town has it's annual Heritage Days celebration. It started when I was in ninth grade and was supposed to only be held for a few years until Ford City celebrated their bicentennial. By the time that arrived, the festival was too big to stop.

It is basically five days of ethnic food and crafts. Add in the carnival rides, petting zoo, 5K walk/run, parade and fireworks and you got yourself a tradition. Most people come home for this holiday. Class reunions are planned for that weekend. You will see people you haven't seen for years.

Over the past five years, the festival had been going downhill. It was mismanaged. The good crafters pulled out. The entertainment was not much to write home about. Last year, everyone feared it would be the last year.

The old committee retired. A new committee was formed. New blood, young blood and they promised to revitalize a family tradition. I have to say, I think they are well on their way of doing that.

After being a pedicure and nail whore for two days, trying to fit three days worth of clients into two, I ended up with a UTI. Working 12 hour days and forgetting to take regular bathroom breaks finally took it's toll on me. I spent the entire Fourth of July in bed. For the first time that I can remember, I missed the fireworks.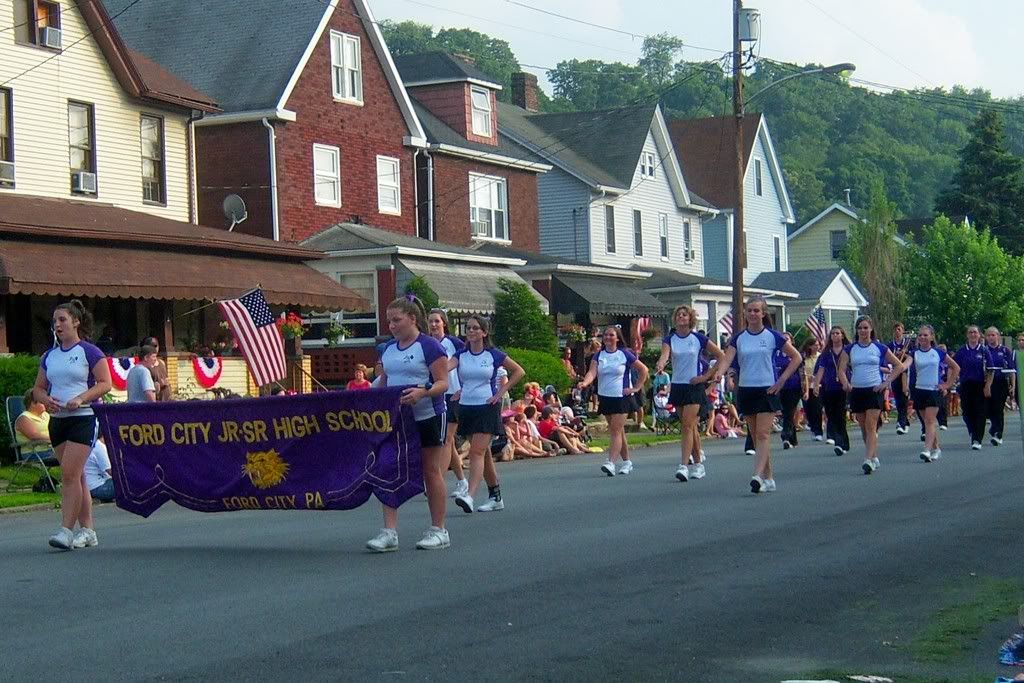 Yesterday, I was able to venture out in the evening. I got to see the parade, which is always highlight for me. The parade was shorter than in years past. I remember the bicentennial parade lasting until 1:00 am. Nick said at one point that next year we need to bring a kid with us. I looked at him and realized he meant so that we could get some candy. I quickly proved to him that "I" can get candy from firemen! I just waved at all of the ones that I knew and an abundance of candy flew in our direction. He ate every single piece of it too.

Since we have missed all but two days of this festival, we have some ground to make up. Usually, we plan our days by what we eat, spreading out the goodies all week. With only two days, that's a lot of eating. We made sure we got the Polish Platter (piergois, cabbage rolls and mashed potatoes) last night, as well as Apple Dumplings with Ice Cream. Tonight, we have to get our Pastrami Sandwich and hopefully some Cabbage and Noodles as well as a Bavarian Waffle with Ice Cream. Oh boy, I hope I don't come home with a tummy ache like last night.


We always visit the petting zoo. I am an animal lover and am drawn to any kind of animal. Some don't agree with petting zoos. These animals seem very cared for and very well fed. Every year, I visit with the llama. It's the same llama every year. I like to think of him as being named something regal like Kensington. He has an air about him, like he feels demeaned to be in a petting zoo. I can just imagine him speaking in a high class voice saying "I can't believe that they have me in here with these barnyard animals. What an utter embarrassment"

I hope everyone had a great holiday weekend, filled with their own holiday traditions. I know I sure enjoyed mine, UTI and all!