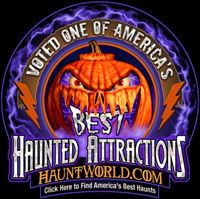 Last Friday was the opening night for Scarehouse. Since they were named by Hauntworld Magazine as one of the top haunts in America (Number 5, actually), the Travel Channel was there filming a special.

We had a few derby girls come out and show some love. I never did get a photo of Whipsmart, who was first in line!!

Helen Fire and CC DeKill came out.
So did Beath Death. This is Mr. Bruises favorite skater!
Dr. Feelgood chased everyone down the street. It was a great night. Come out and see us! Scarehouse is open Thursday-Sunday through November 1. Wear your Depends, trust me!