Last night, I went and got my tattoo at Jester's Court. Some of you will remember that I won a gift certificate at the Steel City Derby Demon's Championship game. This tattoo was also my "get even card" with Mr. Bruises for the whole Camilla situation.


Mr. Bruises wasn't too happy to find out where I was going. He had already pulled out all stops, at one point, offering to purchase my $250 gift certificate for $1,000. I turned him down. So, he finally pulled all his tricks out of his bag and told me that if I got a tattoo on my forearm, where I had been planning to get a dragonfly, that he would be ashamed to walk down the street with me. He said that I would be white trash and he would lose some respect for me. Well, you can imagine the fire that ignited within me.
Problem was, he planted the seed. The seed of doubt. Those who know me know that I really don't care what anyone thinks of me, I never have. That isn't totally true, though, I guess I care what one little, bitty person thinks and that is unfortunately, Mr. Bruises.
So, after much soul searching, I decided to bring up the idea of adding to my current tattoo that is on my foot. I've always liked it, however, once I started hanging around others with phenomenal artwork on their bodies, I realized how boring and plain my little tattoo was. We decided to go for the foot and Sean drew out this amazing dragonfly, with vines and flowers to kind of pull both of the tattoos together.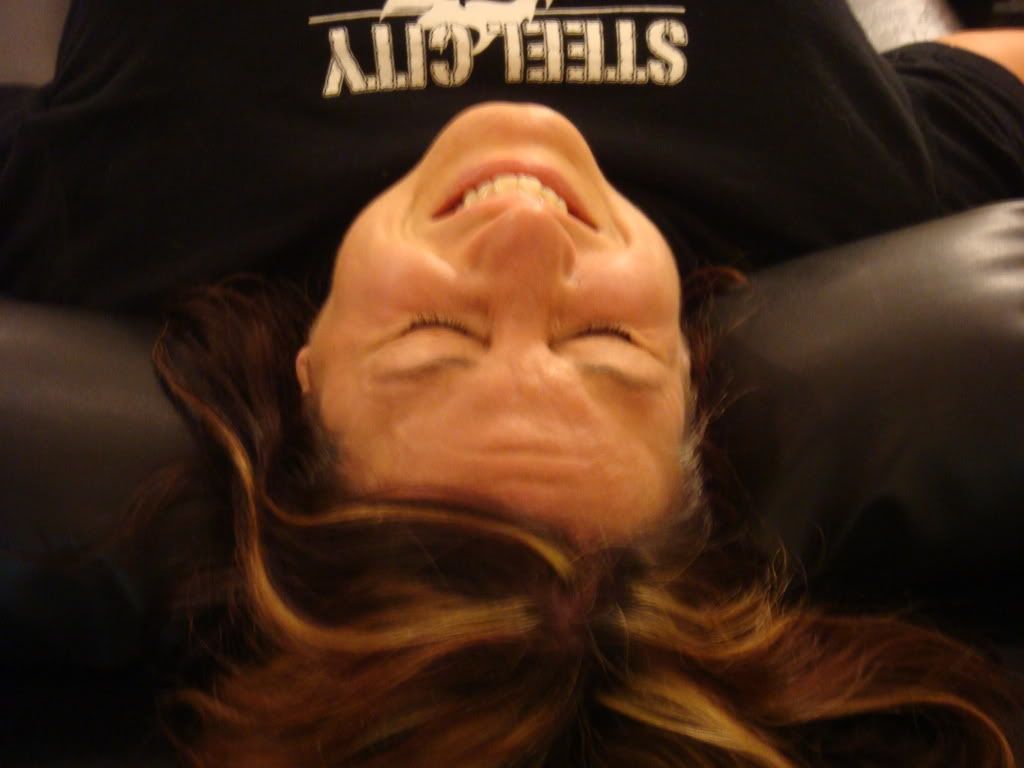 This tattoo hurt like a mother trucking whore. At one point, I was crying. Well, maybe not crying, but my eyes were watering terribly and I feared that I would have no teeth left from gritting them. Then, the unthinkable happened. I farted. I hurt so bad and was tensed so much that I cut the cheese big time. I thought everyone was going to die laughing, especially Clara and Jill.
I think Sean realized that I couldn't take much more. So two hours after he started jack-hammering ink into my flesh I was done. Once it heals, I can have him finish the few things that are left.

I am in awe of this tattoo. Every time I look at it from a different angle, it's a different color. My only regret is not going this route from the very beginning and totally bypassing that little, boring tattoo that started it all.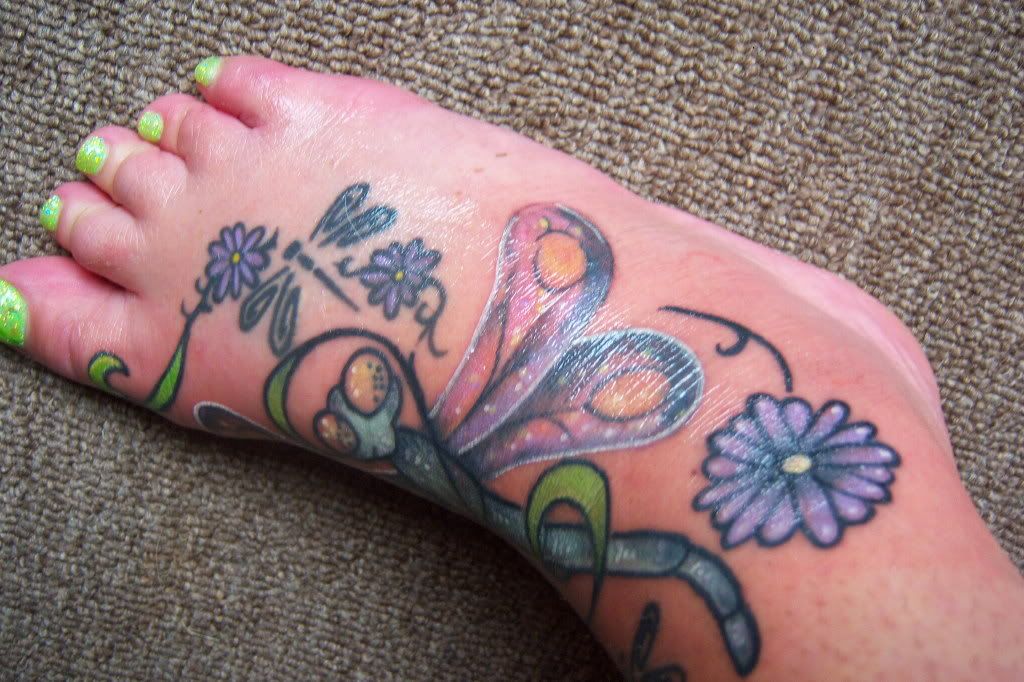 Upon my arrival at home, Mr. Bruises was waiting for me. It seems as though he thought all about his words and actions for eight hours. He apologized and said that he shouldn't have said those things and it was wrong of him to ask me not to get the tattoo. At this point, I took off my jacket and he realized I didn't get the tattoo where originally planned. My foot was still bandaged and he hasn't seen it yet, but I know he is relieved it is my foot. And technically, I still only have "A" tattoo!
Thanks for the awesome tattoo, Sean. Thanks for going with me Jill and thanks BB
Basher
for showing up and offering to hold my hand!